un.done volume and matte texture spray had a glow up for good
To celebrate another year of partnership with HairToStay, we've created a limited-edition version of our fan favorite un.done volume and matte texture spray! For every can purchased of this special un.done, $2 will be donated to HairToStay's mission. Keep reading for more about this incredible organization.
what is HairToStay and what do they do?
Have you ever heard of scalp cooling technology? Scalp cooling is a treatment that can dramatically reduce chemotherapy-induced hair loss. This can help maintain a sense of normalcy and privacy in a patient's life and helps avoid the emotional damage that hair loss can often cause.
The only problem is, this technology currently isn't covered by most insurance providers, making it inaccessible for many people—this is where HairToStay comes in. It is the only national nonprofit organization committed to raising awareness and financial aid for scalp cooling technology, and was granted FDA Clearance in 2015.
So... how does it work? Glad you asked. By using a scalp cooling system during chemotherapy treatments, hair loss can be prevented by impacting two cellular processes. Scalp cooling works by constricting the blood vessels in the hair follicles, thereby exposing them to less of the chemotherapy medication that often results in total hair loss. Additionally, the chemotherapy's effects on the hair follicle are reduced due to the slowing of the cellular metabolism.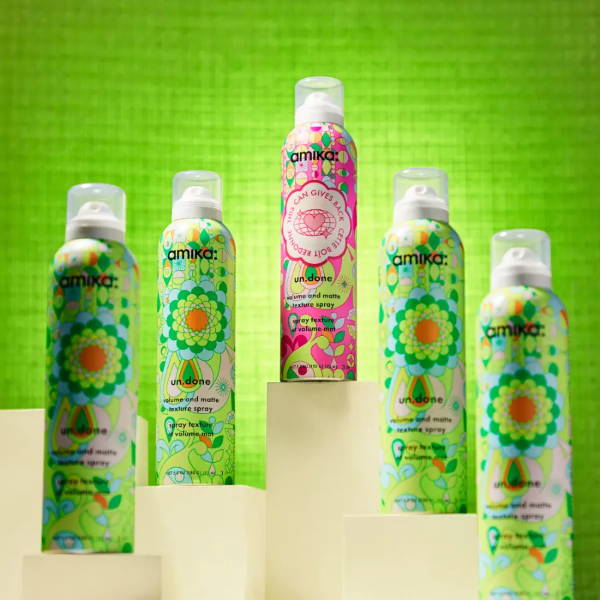 why un.done volume and matte texture spray?
We want to ensure we make a big impact with this partnership, so we chose a leading professional styling product (and an amika friend fan favorite!) to help us raise money and awareness for HairToStay.
Plus, this limited-edition bottle comes in a new, enchanting pink design that will make your bathroom top shelfie look *chef's kiss* (send us aesthetically pleasing photos, please!). The elevated colors and special touches make this the ultimate way for un.done fans to look good AND do good! 
how can amika friends get involved?
There are a few ways to participate:  
When purchasing through loveamika.com, there is the option at check-out to donate anywhere from $1 to $10 to HairToStay.   

Purchase one of the HairToStay limited edition un.done volume and matte texture spray cans, and $2 from every bottle will go directly to HairToStay. Snap a picture of your purchase and share on social media to spread awareness.  

Salon owners/stylists - host a salon-a-thon, donate a percentage of every service to HairToStay, raise awareness through social media, blog about the cause or make a fundraising page via HairToStay.

Visit 

http://www.hairtostay.org/

 to learn more about HairToStay and stay up to date with all upcoming events and fundraisers.
---