the best hair oil for dry + frizzy hair
Ohhhhh, hair oils. You may be an extreme lover, or you may be an extreme hater. Let's just say, not all hair oils are created equal. They're meant to smooth the hair and give a boost of hydration, but some can just leave your hair heavy, greasy, and generally just falling flat. That's where our take on a hair oil comes in: glass action universal elixir.
Treat, style, and finish hair with this nutrient-rich elixir, formulated to condition and restore shine while eliminating frizz. This product has so many benefits + uses, so let's just dive right into it.
why is this product so great?
Wheat Germ Oil -

contains protein, minerals, essential fatty acids and vitamins that are highly antioxidant.

Jojoba Seed Oil -

deposits into the cuticle surface to create the look and feel of stronger hair

Vegan and Safe for color-treated, Brazilian-treated, and keratin-treated hair

Moisturizes + smooths – reduces frizz and tames

flyaways

by smoothing the cuticle

Softens hair + adds shine
how can you use this product?
Style primer –

Use this elixir post-shower and pre-heat styling for silky, smooth, and manageable locks.

Distribute a few drops throughout clean, damp hair, and style as you normally would. You can also cocktail this with your other

fave

styling products to add conditioning benefits to your current routine.

A note: if you're looking for a hair oil that also provides heat protection, check out blockade heat defense serum.

Style

finisher

–

To control frizz and protect styles, lightly distribute a few drops throughout hair, focusing on the ends.

This will

tame

any

flyaways

and add shine to your style. Glass action universal elixir is lightweight enough to use on damp and dry hair!

End refresher/moisturizer -

Noticing that on day 2 or 3 that your ends are looking

puhretty

dry? Use a drop or two of this elixir to soften hair and add shine.

Pro tip: when experimenting with hair oils, start with a small amount and work your way up. You can always add more, but you can't take it away once the deed is done!
To give you some context, we asked one of our amazing team members, Sarah Weckerling, to share with our friends how she + her mom (!) use glass action universal elixir.
Glass action is a true 'treat yo' self' product because it smells amazing and you get instant gratification. It's super user friendly and makes you feel like a pro when you use it. I love that I can use this product on wet and dry hair. Before trying it, I was very much expecting for it to weigh my fine hair down, but it's so lightweight!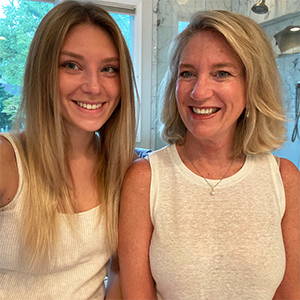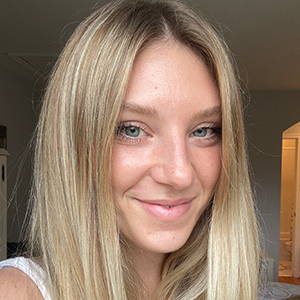 My mom texted me raving about glass action universal elixir after trying it at her salon (pre-covid) - it quickly became a step in our daily routine that we never knew we needed!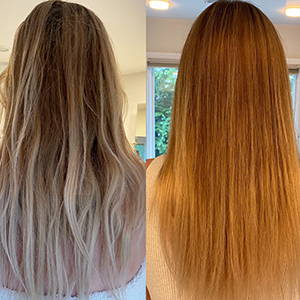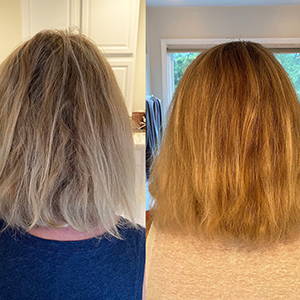 We both washed our hair with bust your brass shampoo and conditioner. I have long hair that tangles easily, so I spray the wizard detangling primer into my brush and brush it into damp hair. We both have a similar hair types; fine to medium. However, my mom has short hair that gets pretty curly in the back and straighter in the front. Next, we both use glass action universal elixir and then blow it dry using the immortal power life dryer (best hair dryer ever)! On my 2nd day hair my roots tend to get a little oily and my ends get dry and frizzy, so I use perk up dry shampoo on my roots and glass action universal elixir on my dry, frizzy ends. This duo instantly revives my style!
If you find yourself relating to the above and thinking, "wow, this is ME", it's time to make the switch to glass action universal elixir!
Have any questions? Check out our program for one on one virtual consultations to get specific recommendations!


By Becca King, community manager