signature collection spotlight: not so basic basics
Here at amika, we are a friend to all. A friend to hair, hairstylists, to her, him, you and them. We create products to solve your hair concerns. Our assortment includes 10 collections that cater to every type of hair – no matter ethnicity, age or gender. All hair is welcome. To help you get to know our products a little better, we are starting a series on The Strand where we highlight a selection of our 10 collections- who they are for, how to fit these products into your routine, and what results you can expect. We're hoping to shed a little more light on how to pick products that best suit your hair type. But don't forget, never be afraid to mix and match collections for your specific needs and concerns! All right, here we go!
who is this collection for?
Our signature collection houses some of our best sellers; think perk up dry shampoo, the wizard detangling primer, etc. This collection is basically your set of not so basic…basics. What we mean is, these are staple products that everyone can integrate into their routine. What makes this collection not so basic is our formulas, ingredients, and of course our signature scent. To sum it all up, this is the "as close to one size fit's all haircare collection" as you'll probably ever get. We all know one size does NOT fit all. Keep reading to find out more!
what are some main ingredients in this collection and what makes them great?
Provitamin B5 - promotes hair's resilience, smooths and conditions
Avocado Oil - full of protein, vitamin A, D, E, B6, amino acids, folic acid and minerals that promotes smooth and moisturized hair
Coconut Acid - provides excellent lathering and conditioning.
Jojoba Seed Oil - deposits into the cuticle surface to create the look and feel of stronger hair
Vitamin C - the antioxidant that assists in the reduction of free radicals
Sea Buckthorn – rich in vitamin C and A, antioxidants and healthy omega fatty acids, including the essential omega- 7
*please note not all of these ingredients are in every product in this collection
what products are in this collection and how do you add them into your routine?
Perk up dry shampoo : The closest thing to washing your hair without water – a talc-free, true dry cleanser that absorbs oil and refreshes hair with natural rice starch, and leaves no white residue, ever. We're pretty proud of this one, as it's usually a lot of people's first gateway into amika. If you have oily hair, try not to wash your hair that often, or your hair has trouble holding style; this is the dry shampoo for you. Perfect for most hair types (we suggest phantom hydrating dry shampoo foam for very dry or curly hair), this product is never heavy and leaves you with a refreshed style. Perk up was the "Dry Shampoo" award winner for Beauty Launchpad's "Readers Choice Awards 2017: Haircare", as well as many others! This baby has over 90,000 reviews and over 4.4 stars. Now that's love.
The wizard detangling primer: Meet the first step in every haircare routine (post shower that is); a weightless, multi-benefit priming spray that detangles, cuts blow dry time and protects against thermal damage. This baby basically has a cult following by now, especially at salons. The scent alone is enough to hook anyone, but this product also leaves hair smooth, soft and radiant. This is the perfect foundation for any hair care routine. Perfect for all hair types, although if you have very fine hair; try spraying this in the palm of your hands first before applying.
Normcore signature shampoo: A sulfate-free shampoo that gently removes buildup while treating hair & scalp with a daily dose of Omega 7 rich, Sea-Buckthorn – for soft, silky, bouncy hair with every use. Also to note; This concentrated formula lasts longer and a little goes a long way. Don't forget to emulsify in your hand before massaging into scalp for optimized foaming results. This shampoo improves scalp condition, repairs the look of dry and damaged hair, as well as weightlessly hydrates and revives dullness.
Normcore signature conditioner: A hydrating conditioner that delivers a daily dose of Omega 7 rich, Sea-Buckthorn to restore moisture and promote elasticity – for soft, silky, bouncy hair with every use. Sea-buckthorn oil and shea butter leave hair soft and shiny but never weighed down or greasy. Use this to repair the look of dry and damaged hair, weightlessly hydrate and moisturize, as well as detangle and improve manageability.
Soulfood nourishing mask: Deeply condition and hydrate dry hair to its natural vibrancy and health with this replenishing treatment. Not only does it smell like our signature scent, but it also contains jojoba seed oil (deposits into the cuticle surface to create the look and feel of stronger hair), vitamin c (the antioxidant that assist in the reduction of free radicals), and is free of sulfates, parabens, phthalates, gluten, mineral oil, petrolatum and artificial colors. It's also vegan! Apply this mask, leave on for 20 minutes (longer if you want, it won't hurt!) and rinse.
Blockade heat defense serum: Do you love to heat style? Do you have an addiction to your straightener or curler? Then you need blockade. Keep your hair safe with this lightweight serum that protects hair from thermal styling and blow drying. The magic comes from an ingredient called Cyclopentasiloxane, which is a heat protective agent that seals hair against moisture loss without weighing it down. Serums can be tricky in hair, but this one is weightless while also protecting your locks. Style away!
001 hair fragrance: Pretty self-explanatory, but this is our signature amika fragrance in a bottle! Keep this on you when you feel you need a little fragrance refresh. This will linger in the hair without affecting your style. We like to describe this scent as a blend of warm vanilla, fresh citrus and spicy sweet clover.
Glass action universal elixir: Treat, style and finish hair with this nutrient-rich elixir, formulated to condition and restore shine while eliminating frizz. For prepping – Distribute a few drops throughout clean, damp hair and style as usual. Cocktail with other styling products to add conditioning benefits, like supernova moisture and shine cream. For finishing – To control frizz and protect styles, lightly distribute a few drops throughout hair, focusing on the ends. Great for taming flyaways.
Supernova moisture and shine cream: This supreme leave-in cream weightlessly provides superior hydration and lightweight-conditioning, leaving hair supernaturally soft and smooth with brilliant shine. Similar to our first base moisturizing styling cream, this product infuses moisture while making hair more manageable. We recommend supernova moisture and shine cream for those who have finer hair types, as this is lighter in weight. And, if shine is a major concern for you, opt for this leave in!
Signature room fragrance: Freshen any room or linens with the invigorating scent of your favorite amika products – an intoxicating aroma of warm vanilla, fresh citrus and spicy sweet clover. If the amika signature scent is addictive for you, you have to have this!
Luckily for you, we have two limited edition value sets that have everything your hair routine needs!
Signature wash, treat + style starter set: Wash, treat, and style with these 5 haircare must-haves! Kick off your signature routine with normcore signature shampoo and

normcore signature conditioner

. I

f your hair needs

an extra boost of moisture,

apply

soulfood nourishing hair mask

for some luxurious hydration. Next, add a few spritzes of

the wizard detangling primer

, which hydrates hair, provides up to 450° F heat protection, detangles, and reduces blow dry time. To keep your style fresh, use

perk up dry shampoo

, which removes excess oil and odor without leaving behind any dull residue.
To put this into context, we asked our Senior Director of Pro Strategy and Business Development, Kate Harrison, to explain her updated quarantine hair routine for us.
"Our Signature Collection was developed for all hairs. Products that are universal that can be used on everyone! I am honestly using each product in this collection. Every. Single. One.
Here's some background on my hair.
My hair needed a break. Right before quarantine happened, I JUST had my beaded sewn in extensions removed. Thank goodness that happened, or I would be a knotted mess right now and trapped inside my own hair. Working from home is truly allowing me to experiment with the true break my hair needed. Sure, my roots are coming in, but I have quarantine daydreams of how long and luxurious my hair will be once we emerge.
Here's my current wash + care regimen:
Wash with

normcore signature shampoo

! So fresh and so clean.
Apply

normcore signature conditioner

mid-shaft to ends 1 to 2x a week.
On Sundays, I use

soulfood nourishing mask

. It gives so much hydration. It's like a drink of water for my dry ends.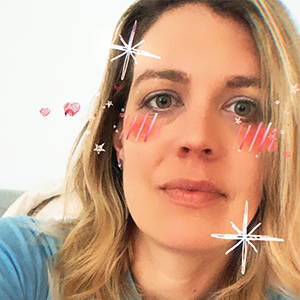 Here is my styling regimen:
I am also spritzing the signature room fragrance in my studio making it really smell like amika in my studio apartment."
We only make products that make us proud. We create highly effective haircare that has always been certified cruelty-free, formulated without sulfates, parabens, aluminum starch and over 1,300 questionable ingredients banned by the European Union.
Have any questions regarding your specific hair type? Make sure to check out ACE, our personalized hair quiz on loveamika.com that will give you the run-down on what products to use for your specific hair type, hair concerns, and lifestyle.
By Becca King, community manager