how to quickly add volume to your hair
Sometimes it's easy to anticipate when your hair is going to fall flat. Depending on your hair, that could be when it's raining, when you're wearing a winter hat or earmuffs; or maybe you're someone or maybe you're someone walking the fine hair line all the time. The big question is what can you do QUICKLY to give your hair some immediate oomph?
In either scenario, we have just the remedy for you.
Pump volume into your routine pronto by using a volumizing shampoo and conditioner. Our 3D volume and thickening shampoo takes volume to the next dimension. 3D shampoo thoroughly cleanses and plumps from root to tip for the ultimate go-big moment now, while 3D conditioner provides the ultimate thickening boost for big results with a voluminous finish.
Both are formulated with Redensyl® complex (with Larix Europaea Wood Extract and Camellia Sinensis Leaf Extract) and Sea Buckthorn. Sea Buckthorn Berry is one of the most potent natural ingredients on the planet. This "superfruit" is one of the few known plant sources of the fatty-acid Omega 7 typically found in fish oil. Omega 7 promotes elasticity and provides superior hydration, making it the ultimate holy grail ingredient for your hair and scalp. Additionally, we added hydrolyzed rice protein which improves hair manageability and thickness, as well as hydrolyzed vegetable protein which thickens, volumizes and lightly moisturizes.
Now here is where we would normally go into how to use the products, but we know you don't need instructions on how to shampoo your own hair. It's most likely something you've been doing your entire life. So, let's get on with it.
choose the right styling products
amika is a friend to all and we truly believe that one size definitely doesn't fit all. That's why we have 10 collections catered for every hair type and concern. We even encourage mixing and matching products within our collections to satisfy the many different needs of your hair!
That being said, when you're picking a styling product to add all that volume you've been craving, it's important to pick something that suits your hair type and desired look. Click here to read more about which styling products in our volume collection are right for you.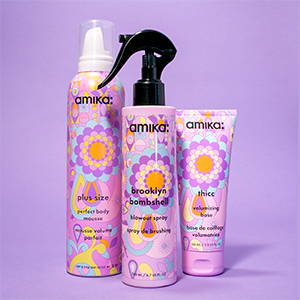 get a tool that does the hard work for you
If you're a big fan of the voluminous blowout, you know how difficult it can be to achieve this look at home without your trusted stylist. Well, that's where our hair blow dryer brush comes in to save the day. The hair blow dryer brush is a 2-in-1 hair styling tool that combines a round hair brush and blow dryer to easily and quickly creates a smooth, bouncy, salon quality blowout at home. This innovative hair styling tool is clinically proven to give your blowout 2x the shine* while banishing unwanted frizz for an effortless, glossy finish. The large oval barrel creates volume at the root and sleekness along the hair shaft, while a mix of long and short bristles detangles, smooths, and minimizes breakage. Adjustable heat settings provide a customized blowout that works for every hair type.
Do you have your own hair recipe for the ultimate volume? Tell us all about your routine down below in the comments!