how to put dry hair to bed with our NEW overnight hydration treatment
It's no secret that a good nighttime routine does wonders for the body, mind, and soul. Whether it's a face mask, a mug of warm tea, or meditation, everyone has that special ritual to help them wind down. Luckily, our newest launch is about to become your newest pre-sleep ritual. Trust us, it's everything your hair has been dreaming of.
Introducing the newest addition to your nighttime regimen…dream routine overnight hydration treatment. Keep reading to learn how to put your dry hair to bed, along with tips and tricks we've collected from our social audience on how to get a better night sleep.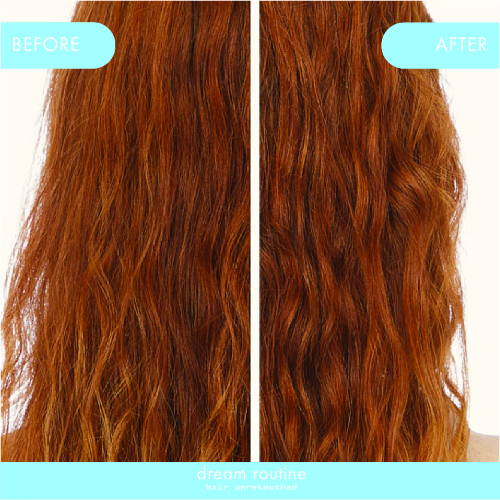 what is dream routine overnight hydration treatment?
Wake up with hair 3 times more hydrated* with the new dream routine overnight hydration treatment. Like your tried-and-true night cream but for your hair, this overnight, no-rinse mask deeply moisturizes your mane while you're catchin' z's. It boosts moisture for 72 hours* and the benefits last up to 4 washes*. Plus, it's pillow proof so there's no staining here!
*clinically tested, when used as directed.
what makes this your go-to hydration treatment?
Infused with the ingredients of your dreams, this silicone-free, ultra-hydrating mask has everything your hair could ever want. Keep reading for the breakdown.
Hyaluronic acid: Typically, a naturally found substance in skin, hyaluronic acid helps plump up dry hair by attracting in moisture from the air around you.
Polyglutamic acid: Known to promote moisture retention.
Bio-fermented coconut water: Contains various electrolytes, monolaurin, lauric acid, and plant hormones to add natural hydration to hair.
Blue/green algae - Provides essential fatty acids, amino acids, as well as vitamin A and Beta-carotene.
Sea buckthorn: One of the most potent natural ingredients on the planet, it is one of the few known plant sources of the fatty-acid Omega 7. The superfruit is loaded with 15 times more Vitamin C than an orange and 3 times more Vitamin A than a carrot, making it the ultimate holy grail ingredient for healthier hair and scalp. Even better, our sea buckthorn is sustainably sourced from Tibet!
how to use dream routine overnight hydration treatment
Dream routine is pretty easy to use so you'll be sent off into dreamland in no time. Follow the below steps to get the most hydrated hair of your dreams.
Comb through damp or dry hair.

Pump 1-4 times into hands depending on hair length, density, and thickness.

Apply to hair before bedtime.

Distribute from mid-lengths to ends.

Ready for your beauty sleep!
5 sleep tips and tricks from our bffs
Play relaxing spa music.

Use an essential oil diffuser.

Go to bed after giving yourself a blowout.

Drinking a cup of peppermint tea.

Ensure your bedroom is a comfortable temperature.
Shop dream routine hydration treatment here!