how to get a salon blowout at home
That feeling after a coveted salon blowout is truly a feeling like no other. A blow dry is different when a skilled stylist is working their magic on you. Picture this: your eyes are closed and you're probably leaning into the hum of the dryer, about to almost fall asleep. You look up into the mirror and wow. Voluminous, smooth, and shiny. You walk out of the salon with your hair blowing in the wind like a Beyoncé music video, and you feel unstoppable. With COVID-19 and salons just starting to open in some states, this feeling may feel farfetched and like a distant memory. But what if you could recreate this feeling at home, as well as achieve the same results? Our newest launch, hair blow dryer brush, will do just that.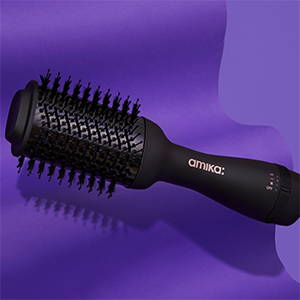 The hair blow dryer brush is a 2-in-1 tool that combines a round brush and blow dryer for an easy to achieve bouncy blowout. Amika is always thinking about how we can be a friend to all, so we made sure that this tool has 3 adjustable heat + speed settings that create volume and smoothness on every hair type. Gone are the days of trying to coordinate the round brush and the blow dryer at the same time; let's leave that up to the stylists. The oval barrel is designed to deliver extra root lift and increase overall volume, giving you a fast and gorgeous blow out. The tourmaline coated barrel generates negative ions and infrared heat to smooth hair and minimize frizz. The brush also features long nylon ball tip bristles that detangle and smooth out the hair. We also included short bristles to increase bounce, shine and polish for a salon quality look. The real game changer about this tool? The WEIGHT! At just .85 lbs, this brush is going to save your arms from getting tired and sore quickly.
For the best blowout you've ever done on your own, we recommend the following:
U

s

e

a heat protectant prior to using the tool

, like the shield anti-humidity spray

(we recommend this for finer hair types)

or blockade heat defense serum

(we recommend this for thicker hair types)

.

This will save the integrity and health of your hair.

Then, turn on the tool by rotating the temperature control dial clockwise to your desired setting.

If you have

thicker

hair

or curlier

hair in pattern

,

we recommend

us

ing

a higher heat setting

for your desired outcome.
Take a large section of hair and start brushing through. If you do have a thicker or curlier hair type, you may want to try slower passes to maximize the efforts of the brush. And, if you love your ends to curve in and frame towards your face, rotate the brush towards the end of the hair shaft to create that inward curve.
Let's let Erica Fae show us how it's done:
So, what makes this different from the other tools in our line up? And, when should you be using each? We're so glad you asked! Let's break down our blow dry tools and which method is right for you:
H

air

blow dryer brush: This easy

-

to

-

use tool takes wet or damp hair to dry + voluminous in a breeze. If your hair is already damp (get as much extra water out before use as possible) and you're short on time,

or you're just plain bad at the traditional method of a blow out,

use this tool to help you get out the door faster.

Blowout babe thermal brush: This tool is used for dry styling only, so your hair CANNOT be damp or wet. This tool is great for refreshing blowouts and giving volume to already dry hair.
Brooklyn heat lightweight speed dryer

+ round brush: The most skill and coordination

are

needed to use these two tools. As mentioned, this is used by most stylists, as they are trained

in this technique

.

If you're super skilled, this is the tried and true method.
You may or may not have noticed, but this type of tool is now one of the hottest hair tools out there right now, and rightfully so! This type of tool makes a once very difficult feat easy for all! But what makes our hair blow dryer brush different from the rest?
Lightweight

-

Like we mentioned before, this brush is just .85lbs, which is lighter than o

ther leading brushes on the market

.

Longer cord

+ 360° swivel

– Our blow dry brush has a

9-foot

cord, which is 1-3ft longer than competitors

.

It also includes a swivel that rotates a full 360°.

This

allow

s

for easier control and use.
Frizz control- hair blow dry brush shows twice the increase in hair shine* (*compared to market competitor)
By Becca King, community manager