how to combat dry winter hair
It's almost February, aka the most brutal and uneventful month in NYC. So, we urge everyone reading to stop what you're doing IMMEDIATELY and evaluate your hair. Is it looking dull? Are your ends looking like the end of a broom? Can you barely get your fingers through it? If so, it's time to give those locks some TLC.
As you know, here at amika all hair is welcome. No matter your hair type or dryness concern, we have something for you. We're going to supply you with some treatments that will turn your hair from dull and unmanageable to luscious and vibrant.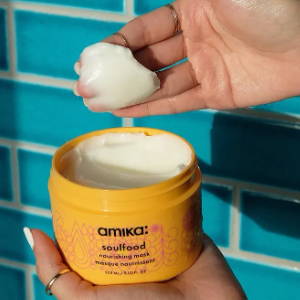 for knotty + unmanageable hair
If you wear a lot of hats or just find that your hair is always tangled + messy from dryness, reach for our soulfood nourishing mask. This treatment is an ultra-luxurious and rich mask packed with vitamins and nutrients to condition the hair making it soft, silky, and smoother than ever. Like a cool drink of water for your hair, this mask quenches hair's thirst. The rich, moisturizing formula provides superior hydration, leaving hair manageable, soft, and shiny for days.
How to:
Use

either as a weekly treatment or an everyday conditioner after the

amika

shampoo of your choice. Leave to penetrate for 5 to 7 minutes and

rinse

.

For high porosity hair in need of extra moisture, use this as an everyday conditioner. For normal or low porosity hair, use as a weekly treatment.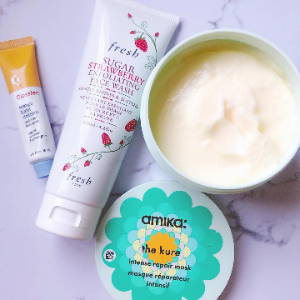 So, what exactly do we mean by damage? This includes everyday heat, environmental stressors, chemical treatments, and more. This may present itself in the form of split ends, breakage, and very dry-looking hair. As you can imagine, this kind of concern needs a bit more attention. So, we suggest you use the kure intense repair mask; an intensive turnaround treatment that restores moisture and promotes healthy looking and feeling hair. It contains Shea Butter, an ingredient full of vitamins, minerals, and five principle fatty acids, working to smooth and soften damaged hair.
How to:
After cleansing with shampoo, gently massage from roots to ends.

Process for 10 minutes with or without heat and rinse thoroughly.

Use

t

he

k

ure

i

ntense

r

epair

m

ask as a weekly intensive treatment in place of conditioner.
Just an FYI, we're going to have some upcoming news about our kure collection, so make sure to stay tuned 😉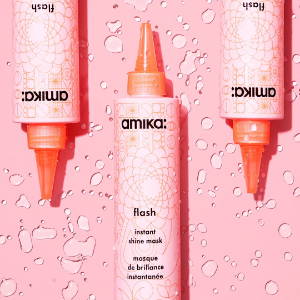 Hair looking lackluster? Well, we have exactly the thing to take you from dull to dazzling; flash instant shine mask. This flash-acting mask delivers brilliant moisture and shine in just 60 seconds. Amino acids and UV filters keep color vibrant and shiny until your next wash, while flaxseed moisturizes and softens the hair for healthy-looking shine.
How to:
Before application, squeeze out excess water from hair.

Twist nozzle and apply product directly to hair in sections.

Fully saturate from mid-length to ends.

Wait 60 seconds. Rinse.

Fine and oily hair types use after shampoo in place of conditioner.

T

hick and dry hair types use after shampoo and conditioner.