how an amika friend found her perfect routine for healthy hair
Today, we thought we would do a little q+a, which isn't really something we've done here yet on The Strand. But, when we heard that one of our community members, Colby Gallagher, had used social distancing down time to perfect her hair care routine, we knew we had to start! So, here we go!
Q: Hi Colby! Tell everyone a little about yourself.
A: My name is Colby Gallagher, I'm 30 years old and I live in Philadelphia. I work as a public information officer for a Prosecutor in New Jersey, which means I handle strategic and crisis communications, social media and more. Think of it like a spokesperson! I formerly worked as an anchor and reporter in the broadcast journalism world. I also run an Etsy shop called Storyteller Studio Art where I create alcohol ink art pieces from coaster sets and trivets to light switch covers and framed art!
Q: How are you feeling in this very moment?
A: This is one of those questions where you type 18 answers and none of them seem to fully capture it all. While I've been personally affected, it really puts things into perspective. I have friends who have lost work hours during a time when they need it most, others who work in the sports industry and have effectively had their careers put on hold and others who have ill family members they're concerned about. I was about to close on my dream home, but it's on hold until offices open back up. With mortgage rates quickly climbing due to the situation, buyers have to put out a lot of money to "freeze" the lower rate until they can close or their monthly mortgage payments will skyrocket. Despite this, I have my health, my career where I can help people and my family and friends are safe. It just further highlights what is truly important to me and puts it all into perspective.
With so much room for negative emotions like fear, anxiety, sadness and more, I'm inspired by some of the optimism I'm seeing. Nearly everyone I know is in self quarantine and is focusing on the bigger picture of flattening the curve. The fact that people are acting with the safety of everyone in mind is great, even if it isn't easy. A lot of us are constantly using technology in 2020, but often I feel it's in a shallow way. In the last week alone, I've seen people connecting in creative, beautiful ways through video chats, music and more. It makes me hopeful and keeps my spirits up during a time where it can be easy to be down.
Q: When we heard that you used down time to get your hair routine on point, our curiosity was immediately sparked. Tell us about this process and everything that you are currently using!
A: When you're stressed, it can manifest in some not-so-fun ways! I've been trying to be kind to myself and remember to practice self care. In the past few months, I've spoken to friends who have really busy jobs about the importance of claiming a small piece of your day for yourself.
With a busy job and interests outside of work, I pride myself in finding a reliable routine where I can look and feel my best without spending a ton of money and time on it. Amika has been a game changer for me when it comes to my hair! I love to color it and heat style it, so I have to take steps to protect my hair. I wash it with vault color lock shampoo and conditioner to maintain the color for three to four months. While it's soaked, I spray the the wizard detangling primer and brooklyn bombshell blowout spray on it. I use Oribe Gold Lust Oil on the ends, but plan to switch to glass action universal elixir when it runs out because I've heard great things and it's much more affordable.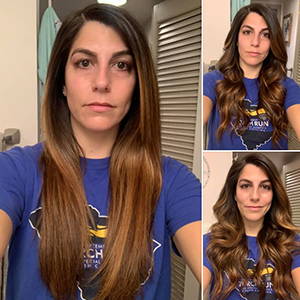 Once those are all in, I brush my hair with a wet brush and tie it up with a microfiber towel to take out the excess water. My hair is coarse, thick and frizzy, so I round brush it with a mixed brush that has both plastic and bristles in it to smooth and really grab my hair. We've all been taught to dry our hair from the bottom up, but I do the exact opposite! With how heavy my hair is, I do as much as I can to get volume. I've found that blow drying from the top down maximizes the volume. I do one side at a time, and when I'm done a layer I will flip it over my head so it cools flipped over. Once I'm done that side, I move it all back over and it's huge!
I've also found my hair holds the style better if I curl it right after blow drying. If I go to sleep or wait a few hours, my hair sets straighter. I curl it with a 1" wand or curling iron, working from the root first then down toward the end so I get better volume. I set it with un.done volume + matte texture spray and I'm good to go! When I go to sleep, I'll brush the roots with a bristle brush to loosen up any product then I'll loosely tie it up so it doesn't get messed up. I'll spray perk up dry shampoo at the roots in the morning and round brush blow dry it in after a few days. Doing this routine allows me to only wash my hair once a week and no one would ever know. It sounds like a lot, but it's not -- it's just a routine that helps me feel confident and like I'm taking care of myself.
Thank you so much to Colby for allowing us to share her process! See below for everything Colby uses in addition to some suggestions for finer hair types!
use vault color-lock leave in conditioner spray instead of the wizard detangling primer if you have fine hair!
use the 3D thickening shampoo + conditioner duo instead of vault color-lock shampoo + conditioner if you have fine non-color treated hair!