blonde collection spotlight: how to keep your blonde brass-free
Here at amika, we are a friend to all. A friend to hair, hairstylists, to her, him, them, and you. We create products to solve your hair concerns. Our assortment includes 10 collections that cater to every type of hair. All hair is welcome. To help you get to know our products a little better, we are starting a series on The Strand where we highlight a selection of our 10 collections- who they are for, how to fit these products into your routine, and what results you can expect. We're hoping to shed a little more light on how to pick products that best suit your hair type. But don't forget, never be afraid to mix and match collections for your specific needs and concerns! All right, here we go!
who is this collection for?
Is having icy blonde hair all you've ever wanted? Does the sight of Khaleesi's locks make you tingle with jealousy? Do you find yourself spending a lot of time and money at the salon correcting toning issues? Welp, look no further. This is YOUR collection. Maybe it's obvious, but people who bleach their hair have more damage and require more hair maintenance, which is why our blonde collection products not only deliver purple pigment to help get rid of any brassiness, there are also ingredients to promote moisturizing and smoothing, something our blonde babies always need.
what are some of the main ingredients + what makes them so great?
Hydrolyzed Keratin – source of protein known to help improve moisture retention while giving softness, shine, and bounce
Shea Butter – extracted from the nuts of the African Shea Tree, shea butter is full of vitamins, minerals and five fatty acids and is known provide deep hydration, softness, and shine
Avocado Oil - full of protein, vitamin A, D, E, B6, amino acids, folic acid and minerals that promotes moisture and smoothing benefits
Wild Cherry Bark Extract – high concentration of minerals and antioxidants like quercetin and tannins, known to provide shine and softness while helping improve manageability, smoothness, and silkiness
Sodium Cocoyl Amino Acids – building blocks to protein, this complex helps restore shine + smoothness for a healthier look and feel
Ultra-Violet Pigment – counteracts orange and brassy tones
Conditioning Complex – improves shine while softening, moisturizing, and detangling
what products are in this collection + how do you add them to your routine?
Bust your brass cool blonde shampoo - Stop brassiness in its tracks with this ultra-violet, sulfate-free shampoo that keeps blonde color light and bright. Not only does this shampoo deliver purple pigment, but it also has ingredients that help to keep your blonde locks manageable, silky, and smooth. Safe for color-treated, Brazilian-treated and keratin-treated hair
Bust your brass cool blonde conditioner - Keep blonde hair light, bright and soft with this violet pigmented conditioner, formulated to zap brass. The star ingredient here is shea butter, which is full of vitamins, minerals and five fatty acids which penetrate the hair's cuticle and provide deep hydration, softness, and shine. Safe for color-treated, Brazilian-treated, and keratin-treated hair.
Bust your brass violet leave-in treatment foam – A violet-pigmented, no-rinse conditioning treatment that keeps blonde color bright while providing an extra dose of nourishment to stressed locks. The foam format allows for the violet pigment to spread easy + evenly, ensuring an even application. To use, apply after washing, and make sure to shake the can well. Dispense a golf ball-sized amount into palms + distribute evenly through damp hair. Do not rinse. Dry hair + style as desired. Toning results depend on hair porosity.
Supernova blonde moisture and shine cream - Keep your blonde icy with this violet leave-in cream that weightlessly conditions, tames frizz and heat protects. For touchable soft hair that's full of shine. Ideal also for fine to medium hair. You can use this on dry or damp hair, depending on hair type.
Mixtape purple blonde toning drops - Highly-pigmented purple leave-in drops neutralize unwanted brassy and yellow tones for an icy finish; drops promote vibrancy and prolongs your color. So, if you find that you need more purple pigment within our blonde collection, add mixtape purple blonde toning drops to customize to your specific needs! Mix this ultra-concentrated formula with your favorite amika cream or oil-based product for perfectly toned, icy results. The easy-to-use and precise dispenser provides the ability to tailor your mixture based on hair color and level of toning needed. Just a few drops go a long way.
We asked one of our team members, Madeleine Gay, Senior Financial Planning and Analysis Manager, to give you a glimpse into how she integrates our blonde collection into her hair routine.
"Once upon a time, I lived in NYC thriving as a blonde in the big apple. I would see my stylist and color guru Scottie (@thescottieramirez) every 3 months for a highlight, balayage, and shadow root.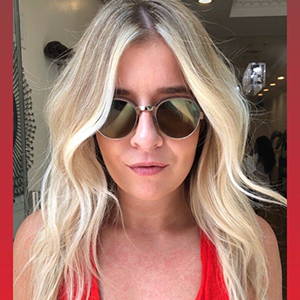 For the last however many months we've been in quarantine (time is a social construct), I have been doing everything in my power to desperately cling to whatever few inches of blonde I have left. My stylist has been indefinitely out of town, so I have been tasked with getting creative. With the help of my beloved bust your brass shampoo & conditioner, I have lied to myself and others, creating a world in which I am blonder, and my roots have not progressed to 50% down my head. My goal here is to keep what remains of my blonde hair as bright as humanly possible to distract attention away from my roots, and just to blind passersby with my freshly toned hair.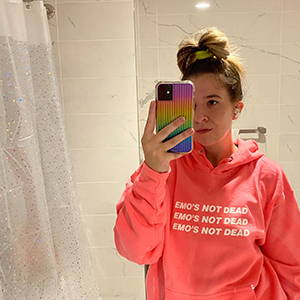 Typically, I apply BYB shampoo to my hair DRY for anywhere between 10-30 minutes. Again, time is a social construct, and I really do believe that more is always more. Applying the shampoo dry gives it a little extra purplepower. I follow it up with a combo of 2 ish pumps of BYB conditioner, MIXED WITH (MAJOR KEY), 2ish pumps of the kure repair conditioner. I would literally hair mask every day, but I try to keep it to one lengthy hair treatment per day. The kure helps keep my hairs soft n sleek, repairing any damage that I have inflicted upon my hair. I don't heat treat because I don't have the attention span/upper body strength/eye for detail, so I towel dry and then apply some wizard detangling primer because I'm afraid of what happens when I don't.
Basically, the name of the game is leave the purple in for as long as you can as a means of distracting others away from your not natural blonde roots. HOWEVER: one time in college I fell asleep with purple in my hair for like 4 hours and turned my hair into a purple grey a la Storm from XMen. Very chic, but absolutely not the intended effect."
We only make products that make us proud. We create highly effective haircare that has always been certified cruelty-free, formulated without sulfates, parabens, aluminum starch and over 1,300 questionable ingredients banned by the European Union.
Have any questions? Leave us a comment!
By Becca King, community manager