how to maintain your hair color this summer
Ahh, summer. The season of sunshine, sun-kissed skin, bright highlights, and beachy waves. It's also (and not-so-glamorously) the season of dry, damaged locks, and dull hair color. Everyday heat and environmental stressors (think UV rays, chlorine, air pollution) do a number on our hair, especially in the summer.
Luckily, amika is here to keep your strands hydrated, healthy, and bright – all you need is a proper haircare regimen. There are three main collections to shop from that will work wonders to protect your mane this summer—read on to see our recommendations!
repair damage and strengthen strands
Our repair collection (better known as the kure), rescues your strands from everyday heat, environmental stressors, chemical treatments, and more. It's clinically proven to repair and strengthen damaged hair.
the kure bond repair shampoo: Build a bond that lasts! This shampoo's luxe lather gently cleanses while working to repair, strengthen, and bring dry, damaged hair back from its breaking point. 
the kure bond repair conditioner: Let's bond! This conditioner intensely hydrates while working to repair, strengthen, + bring dry, damaged hair back from its breaking point. 
the kure multi-task repair treatment: In need of damage control? Introducing…multi-task repair treatment! A fast-acting rinse-out mask that also doubles as a leave-in treatment. It works to strengthen your strands and repair damage in a mere 60 seconds. Clinically proven to result in 2.4x stronger* hair with 74% more repair* and 58% less breakage. And as its name suggests, this product really is a multi-tasker.  
*Compared to control after three uses, clinically tested  
the closer instant repair cream: Make amends with your split ends! This 2-in-1 leave-in hair treatment and styling cream is a fresh trim in a bottle. Plus, it softens, smooths, and banishes frizz- like you just left the salon! 
Packed with UV filters and antioxidants, our color collection ensures your color stays vibrant and sealed – perfect for a summer full of chlorine and salt water!
fadeblock pre-shampoo color seal: This is a pre-shower step, so make sure you are applying to dry hair. This pre-shampoo works to seal the cuticle and balance the pH of the hair, keeping color vibrant for longer. This product also helps to shield against hard water, saltwater, and chlorine. Apply to dry hair, let it sit for a minute or two, and then rinse.
vault color-lock shampoo: Shampoos are notoriously known for stripping color, but not this one! Give your shade super staying power with this color-preserving shampoo, filled with UV filters and antioxidants.
vault color-lock conditioner: The counterpart to our shampoo; this conditioner also contains UV filters and antioxidants to help maintain hair color and bring moisture back.
flash instant shine mask: This mask works in just 60 seconds (no lie!) to deliver brilliant moisture and shine. It really is a game changer. This mask instantly seals the cuticle while softening and hydrating the hair for a silky, smooth finish. Amino acids and UV filters keep color vibrant. If you have fine hair, skip conditioning before this step. If you have a thicker hair type, shampoo and condition as usual and follow up with this mask.
vault color-lock leave-in conditioner: This is used post-shower and adds even more moisture back into the hair for silky strands. It also has a heat activated complex that restores shine and smoothness to hair, making it look and feel healthy again. Apply to damp hair and style as usual! You can also use this on dry hair, just use sparingly to avoid any greasiness.
for our blonde, silver, and gray friends
This collection is for all blondes, silvers + grays! It keeps hair brass-free, while also boosting hydration, strengthening strands, and repairing damage.
bust your brass intense repair mask: Bring blonde back to life. This luxurious mask is packed with 3 different types of plant butters and adds a healthy dose of moisture to those dry strands. It also tones brassiness by counteracting any yellow and prevents future damage by strengthening. This ultra-luxurious mask is like a salon toning service in a jar. Hair is 8x more conditioned**, has 56% less breakage**, and will leave hair 2.2x stronger**. 
**clinically tested.
bust your brass cool blonde repair shampoo: Wash your way to your brightest and healthiest blonde, silver, and gray! Packed with bond cure technology, vegan proteins, plant butters, and ultraviolet pigments, this shampoo keeps your blonde lookin' cool and strong. The proof is in our claims - bust your brass cool blonde repair shampoo is clinically proven to tone, hydrate, strengthen, and repair hair, resulting in 86% more repair*, and 55% less breakage .* 
bust your brass cool blonde repair conditioner: This ultra-violet conditioner tones unwanted brassy hues, while resulting in 86% more repair, 55% less breakage, and stronger, healthier-looking hair. 
*after one use when used as a system, clinically tested. 
We asked our brilliant Director of Education, Jamie Brown, to give you a glimpse into how she keeps her hair vibrant and healthy all summer long.
"My natural hair is 'dirty blonde' as I've always called it. Or 'dishwater blonde,' as we say in the south. I love being a vibrant platinum blonde, so I always book a full painted highlight with my colorist, Zoe Wiepert. My hair is fine, medium density, and pretty much straight except for a few waves on a good day. My hair holds curl, texture, and volume well when I style it. I'm oily at the roots and dry at the ends. I try to go at least two days without washing. Three is really pushing it for me (mainly because I'm a germaphobe).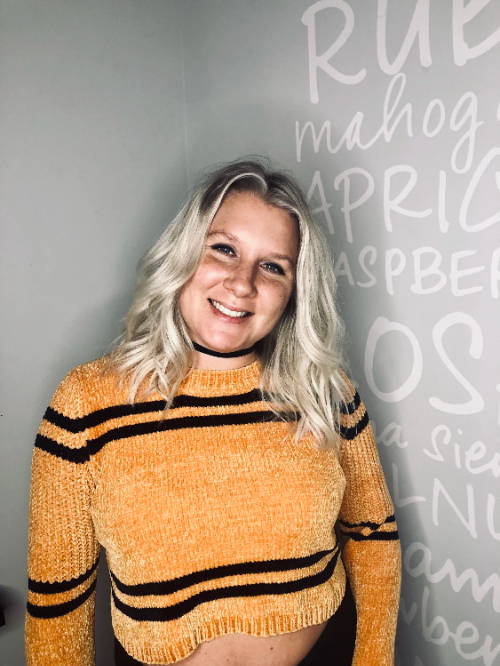 "My two most common hair routines are as follows: 

Apply reset pink charcoal scalp cleansing oil to the scalp before hopping in the shower. I always need a good scalp cleanse to remove dry shampoo build up. Once in the shower, I use the kure bond repair shampoo for a good cleanse. Then, once a week, I use the bust your brass mask (otherwise I use the kure bond repair conditioner or soulfood nourishing mask). I leave on for 3-5 minutes (and usually multi-task by also shaving my legs during this time). I apply the wizard detangling primer all over and let that sit while I do my skin routine. Then I gently detangle (start at the bottom and move up). I let my hair air dry, or if I'm in a rush, I hand dry it with a blow dryer. Once dry, I use the high tide deep waver on my entire head, then spray un.done volume and matte texture spray throughout. 

On day 2 or 3, I start my day with perk up dry shampoo at the roots, focusing on my part and around my ears where I tend to get more oil. I brush out my deep waved look and use the day two texture to create a half up look or upstyle. I like to have fun with this by playing with different shapes. My go-to lately is a loose French twist. I create this look by adding more un.done volume and matte texture spray to my midlengths. I create a side part and pull my hair back to the center-back of my head. I fold the hair over my hand and tuck it into itself, then pin into place. I pull a few pieces out at the front for a more casual vibe." 
We only make products that make us proud. We create highly effective haircare that has always been certified cruelty-free, formulated without sulfates, parabens, aluminum starch and over 1,300 questionable ingredients banned by the European Union.