for the pros: how to up your Instagram game
Instagram! It's the medium of the moment. This could be a subject up for debate, but I'd argue that Instagram is one of the most influential marketing inventions of the last decade, if not longer.
My name is Kate and I lead amika's strategy and our continued business development within the salon division. I also love Instagram. It's how I want to discover new trends. It's where I surf when I have downtime. It's how I connect with my friends and family that don't live in New York City.
So, let's turn the topic towards the business side of Instagram. Since it's highly visual, I couldn't think of a more perfect platform for stylists to promote their work and attract clients.
I took over the @amikapro IG account last January. I have been laser focused on turning this page into a salon professional destination to learn and explore about amika. The page's content is specifically geared towards our network salon + stylists that use amika in their spaces. @amikapro celebrates the styling talents of our Pro Education team and serves to provide information about where to find classes in your area.
Instagram can feel like a multi-headed monster. Followers, engagement, content, etc. The terms are floating around, but what does it really all mean? Here are some of my tips for success!
be authentically yourself
This seems basic, but it's the most important bedrock for a successful Instagram account. In the age of pre-fabricated realities of "doing it for the 'gram", people want to inherently connect with something that feels real. Something that feels attainable and accessible. Feels within their reach.
With that being said, let your personality shine through! Share fun anecdotes through Instagram stories, which is a more casual way of sharing. Don't think too hard about your caption but don't assume your reader will understand what you want to say with what you're sharing. Give detail into the purpose of your post. Here's a great example, by Christina Carlsson, Lead Education + Platform Artist:
If I didn't know Christina before, I now know that she loves Stevie Nicks. (I mean, who doesn't.)
If I didn't know Christina before, I now know that she is an authority on styling.
If I didn't know Christina before, I now know that I want to try these 2 products to cocktail in my own hair, as Christina completely described my hair type.
And now I feel as if I know Christina, at least a little bit. Mission accomplished!
don't fall into the follower trap
There's a quote from the movie, Field of Dreams – "if you build it, they will come." So true! Keep on keepin' on and followers will be a great side effect of a successful Instagram account.
If you're a salon in Houston, Texas, does it even matter if you have followers that live in England? Are they going to come in and book an appointment or buy retail? Likely not. Establish the objective of your page. If it's to fill your book, make sure to use regionalized hashtags and build followers that live in your city and entice them to book an appointment!
most importantly, (do) and post great work!
Just as if you were placing the final finishing touches on a client's style before they walk out the door, take the same care and caution with what you put on Instagram. Quality work counts. If you don't think you have something worthwhile to share, don't post just to post.
I spoke with James Earnshaw, UK Artistic Ambassador, to gather his advice. Here's what James had to share.
"Know your target audience. I'm really focused on styling and the girl. I know my aesthetic and use the same grain of filter/editing work. I'm focused on intense eye contact, a nice silhouette and great lighting. If color is your expertise, you might be more focused on natural lighting."
Work: by James Earnshaw at Behind The Chair, London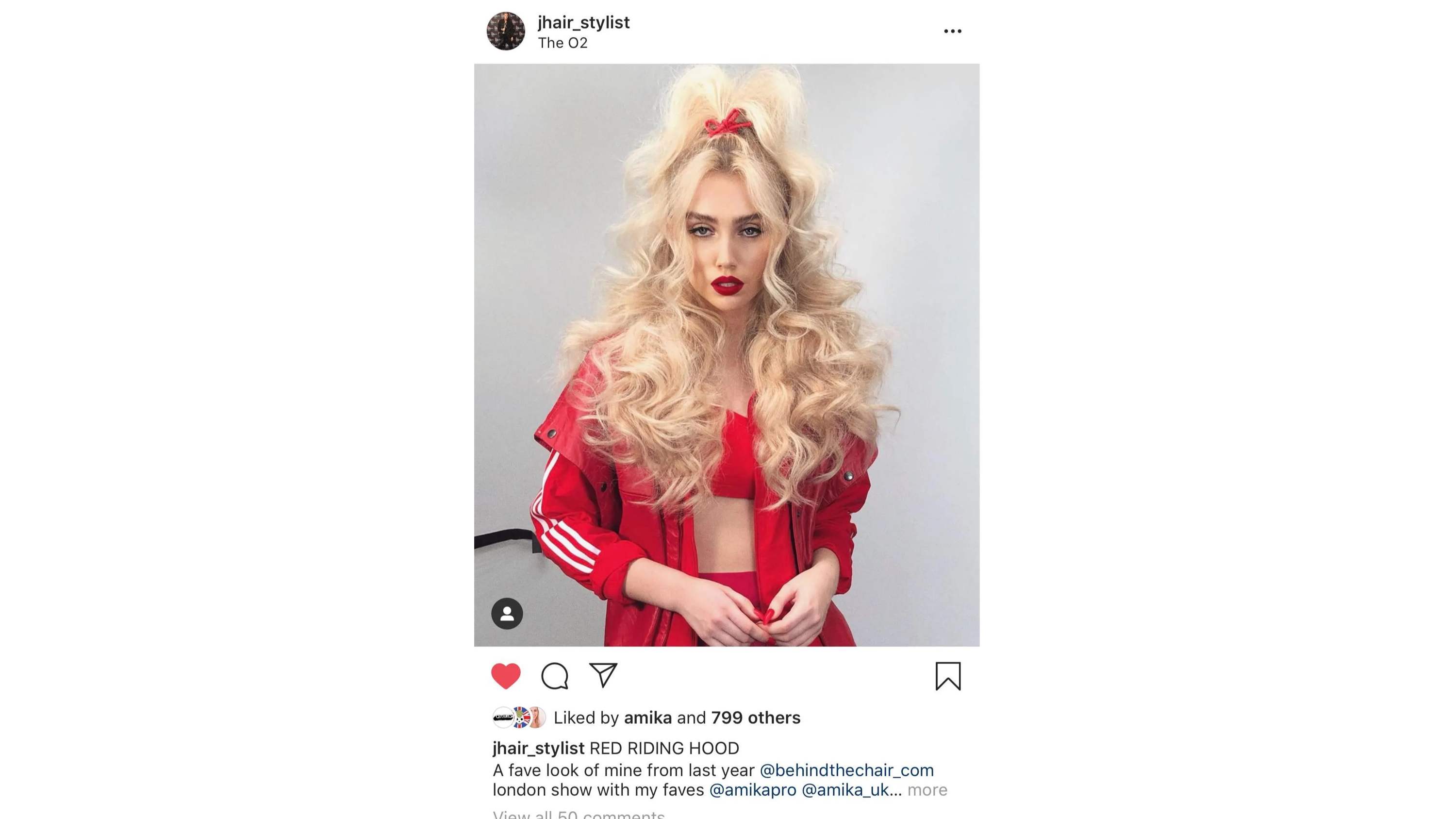 Jamie Brice, amika Pro Educator + Platform Artist created a video of herself braiding a Figure 8 braid, a look taught within the amika artistry curriculum and it quickly went viral. It was shared on Behind the Chair and it became one of the top looks for 2019, with over half a million views.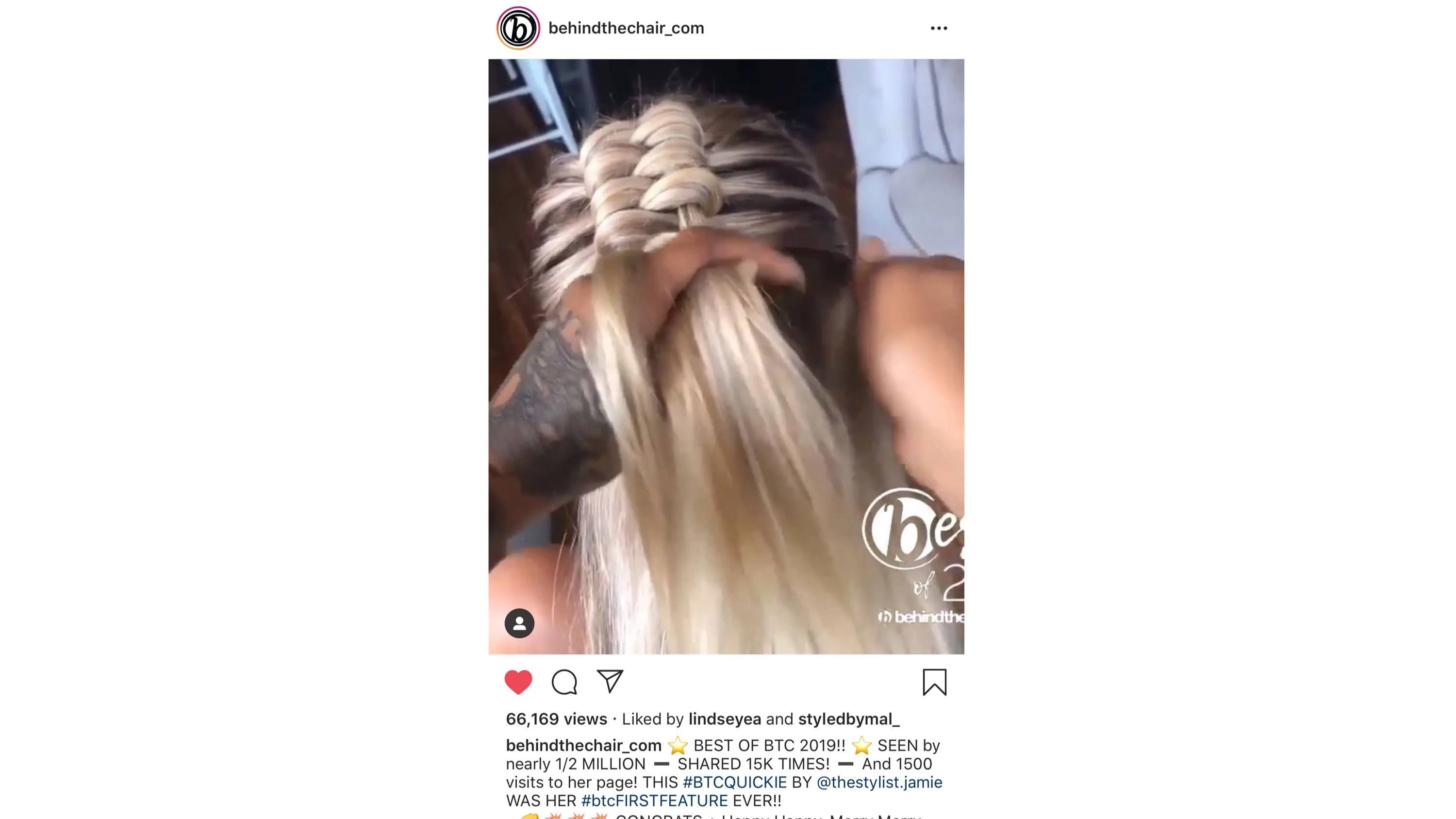 Circling back to that "accessible" and "approachable" point within Tip #1 – here, Jamie clearly shares technique. No smoke and mirrors. A very clear and straightforward shot of how to achieve this braid.
Jamie shares, "Make sure you are recording your videos horizontally. It will make the video editing process a thousand times easier and give you more room to play. Also, play with your angles and be sure you aren't blocking out the camera. It sounds obvious but there is nothing worse than recording a whole video and realizing you were in your own way. If you can use a ring light with a clean background, this will put the focus on what it needs to."
Thank you so much for reading and if you tag @amikapro in your pictures and videos, we'd love to see your best and share. 😊
By Kate Harrison, Senior Director of Pro Strategy and Business Development
cover image of James Earnshaw, UK Artistic Ambassador, his mainstage model for BTC London and Fleur East