serving you amika's holiday gift sets...get them while they're hot
We know, we know… it's literally October. Fall has barely begun, and Halloween decorations are just starting to make their debut. Who do we think we are, talking about the holidays already!? In our humble opinion, it's never too early to start your holiday shopping. Plus, our new holiday sets just dropped, which means we have some spectacular gift ideas for you and your friends. These value sets are also a great way to snag all your faves at a bundled price-- how could you expect us to keep that to ourselves? Keep reading to find out more about the idea behind our holiday gift sets, and what makes them so special.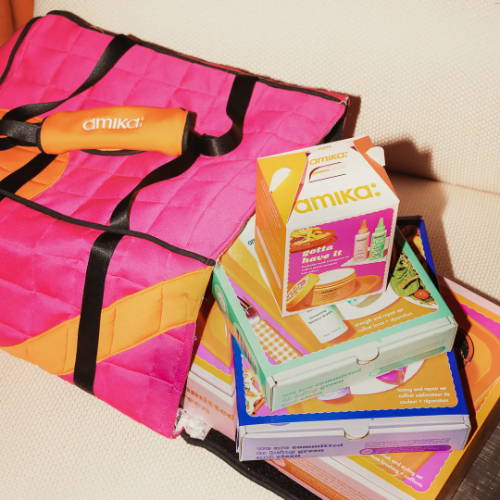 the packaging: a sustainable new york pizza love story
Ahh, New Yorkers and pizza. A tale as old as time. As a Brooklyn born brand, we can't help but draw inspiration from our surroundings and everyday musings of New York, which is why our holiday gift sets are adorned in pizza boxes this year—an ode to the love story between pizza and New Yorkers. (P.S. if you want some Brooklyn pizza recommendations from yours truly, keep your eyes peeled for a future strand article).
Another special thing about our holiday gift set packaging, is that it's sustainable, made with recyclable materials to avoid creating excess waste. After all, nothing spreads holiday cheer like being a friend to the planet! Not only that, but our products are also 100% recyclable through our partnership with TerraCycle® which ensures that your empties are given a new purpose (fun fact: amika products are mostly turned into outdoor composite-lumber based products like playgrounds and community garden beds). Use our holiday gift set boxes to collect your empties, send to TerraCycle ®, and let them do the rest!
here's a little taste...get em' before they're gone!
blowout buffet blow dryer brush + styling set: Serving you this giftable value set pairing amika's award winning hair blow dryer brush with a free wizard and perk up dry shampoo so you can maintain a salon-quality look.
blonde appétit bust your brass toning + repair set: Satisfy your blonde, silver, or gray cravings. This bundle includes bust your brass cool blonde repair shampoo, bust your brass cool blonde repair conditioner, and bust your brass intense repair mask to tone, repair, and deeply hydrate blonde, silver, or gray hair. Plus, they all come at a valued price. blonde appétit!
the kure-all strength + repair set: This set contains everything dry, damaged hair needs. Get our three repair heroes all at a discounted price, and use the kure bond repair shampoo, the kure instant bond repair mask, and multi-task repair treatment as a system for the ultimate kure-all.
gotta have it bestseller hair mask indulgence set: You gotta have this value set! Perfect for a night of indulgence, this mask trio includes soulfood nourishing mask, flash instant shine mask, and the kure multi-task repair treatment.
Let us know which holiday set is your fave in the comments!