salons we love; saint rose of brooklyn
Having trouble finding a stylist you love + trust? Need to switch up your salon location? We know these are no easy feats and have brought you a series titled, "salons we love", to help with EXACTLY that! The Strand is going to be highlighting some of our favorite amika salons to take the scariness out of finding a new salon with educated stylists, so you know you're always in good hands. And if you own a salon or are thinking about starting your own, use this series to inspire and learn!
Our first salon spotlight is on one of our faves, Saint Rose in Brooklyn. Founded by owner, Zuleika Acosta (Zu to anyone that knows her), Saint Rose started out and has continued to be a way for Zu to cope after her mother passed from cancer. Her interest in hair started after this huge life event. Zuleika puts it this way; "hairstyling felt like a way I could give back and cope with it." Zu's hair education began on wigs, but she eventually learned and honed most of her skills from a leading hair university in NYC. She then went on to freelance for about 6 years but felt that she needed something a little more stable in her life. "I got tired of running around all of the time and started think about the next stages of my career. I always knew I wanted to open a salon but definitely didn't think I would be doing it at this age."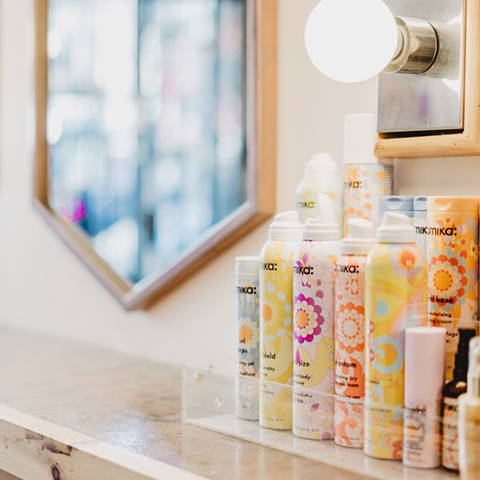 Enter Saint Rose. Zu saved up all of the money she had from freelancing and decided to just go for it. She explained that doing more DIY projects helped her save here and there, as well as taking things one step at a time. Zuleika also knew where her strong suits were and where they weren't, so she decided to try to find a specialized colorist to work alongside her. Zu met Chelsey Drapeau through a mutual friend and… BAM. Match made in heaven. Not only did Zu find her best friend, but someone she could trust and work well with. These two are EXACTLY who you want to be hanging with at the salon. From my own personal experience, I can tell you that this pair makes going to the salon an absolute delight. They will make sure those pre-haircut jitters are gone.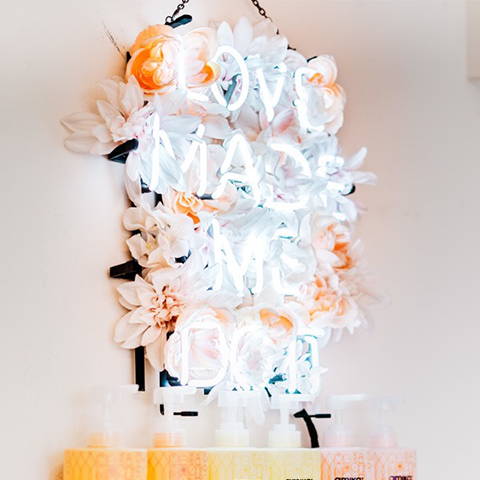 Saint Rose offers cut, color, styling, and makeup application. Zu noticed that a lot of her clients who were coming to get their hair done wouldn't wear makeup and wished they had after a great cut/color, so, she decided to offer it all! A lot of clients come to Saint Rose for natural color that is easy to live in and maintain, big "chops", and modern haircuts. Zuleika + Chelsey also have a rule that anyone who sits in their chair must go outside to do a little photoshoot before leaving. She says, "this makes our client feel confident + badass, and is great for our social media as well."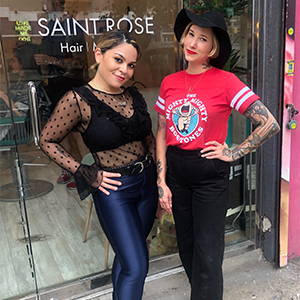 amika has been an integral part of growing the salon's business. Zuleika said, "I was carrying a brand before that showed almost no support, so amika was an easy choice. I knew people there, so it wasn't intimidating and felt like a good fit. Clients love that amika is based in Brooklyn and is local to the salon. I also feel like amika is truly a family. I'm involved with the brand in other capacities, and the relationship has always just been so easy. amika employees come in all the time.The products work and are straightforward enough to educate our clients so they can use them at home, plus they LOVE the smell. amika makes my job easier."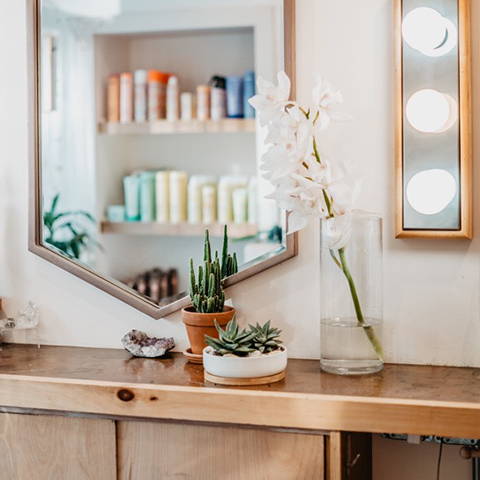 Zuleika also has a number of other stylists who work on rotation in the three rented chairs. This allows the stylists to have some stability, as well as work freelance whenever they choose. Zuleika is a big proponent of being your own boss and doesn't want to stifle the creative freedom of the stylists that work in her salon. If you're in the New York City area and are looking for a great salon, look no further. With the warm hospitality and amazing technique, you're sure to fall in love with this place.
Have an amika salon that you FREAK for?! Do you feel like the stylists are your best friends? Does it look like an amika wonderland inside? Email us at salonswelove@loveamika.com with the salon name, location, special services offered, as well as a photo to be featured in this series!
By Becca King, The Strand Contributor