how to tone or enhance your hair color at home; mixtape color boosting drops
Amp up the intensity of your color with our newest launch, mixtape color boosting drops. These are shade enhancing pigments that you can mix with oils, creams, and serums, to tone or enhance your shade, made with amino acids to promote hair health. The boost of color from these drops promotes vibrancy so you can go longer between coloring. The easy-to-use and precise dispenser provides the ability to tailor your mixture based on hair color and level of toning or enhancing needs. These products are EXTREMELY concentrated, so remember, just a few drops go a long way.
which mixtape color is right for you?
purple blonde - highly-pigmented purple leave-in drops will neutralize unwanted brassy and yellow tones for an icy blonde finish
teal brunette – made for brunettes to neutralize unwanted brassy and red tones
golden blonde - adds warmth and enhances light to medium-blonde hair to create a customizable radiant, sun-kissed shade
what can you mix mixtape color boosting drops with?
For easiest application and to get the most even finished look, we recommend only mixing these drops with cream or oil-based products. The thinner in consistency a product is, the more likely it is that you will get an uneven application and the mixture will be harder to distribute.
You might recognize some of your amika faves that we recommend mixing with below!
Soulfood nourishing mask - Deeply condition and hydrate dry hair to its natural vibrancy and health with this replenishing treatment.
Kure intense repair mask - An intensive turnaround treatment that restores moisture and promotes healthy-looking and feeling hair.
Supernova moisture + shine cream - This supreme leave-in cream weightlessly provides superior hydration and lightweight-conditioning, leaving hair supernaturally soft and smooth with brilliant shine.
Vault color-lock shampoo + conditioner - Give your shade super staying power with this color-preserving shampoo + conditioner, filled with UV filters and antioxidants.
First, dispense base product of choice into your hands then press pump to dispense individual color drops. Mix product + color drops thoroughly before applying.
For porous hair, start with the lowest dosage. The more pumps you use = more color deposit. We recommend starting with fewer pumps on the first use to see how your hair absorbs the pigment.
In shampoos, conditioners, + masks, leave-in for 1-3 minutes, then rinse thoroughly. Always make sure to wash your hands after application, as this product may cause staining.
See below for recommended dosages based on what product you are mixing with + your desired result.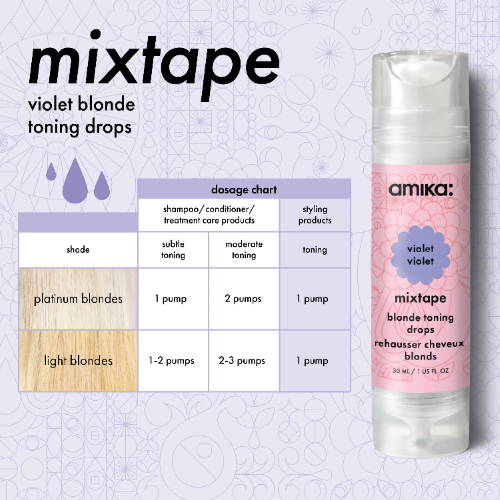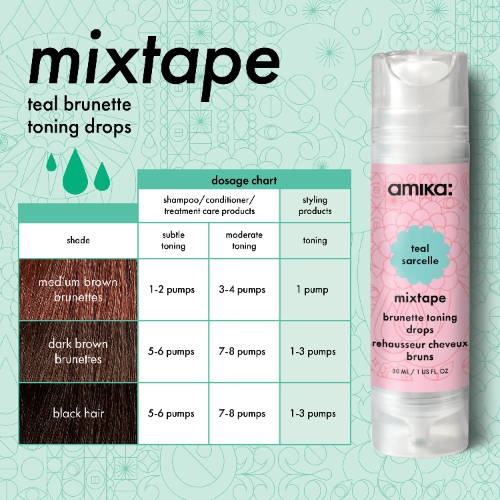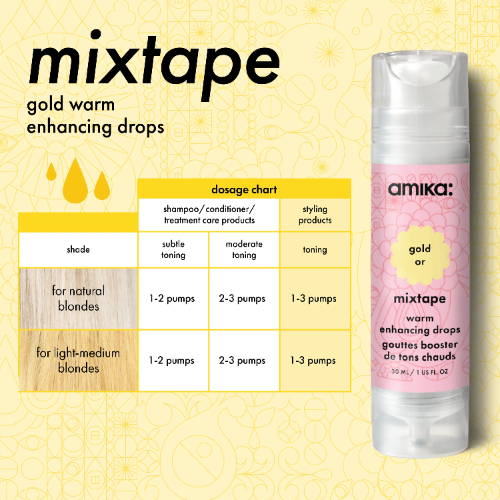 To seal the cuticle and boost shine after use, finish with the flash instant shine mask. This flash-acting mask delivers brilliant moisture and shine in just 60 seconds. It instantly seals the cuticle while softening and hydrating the hair for a silky, smooth finish. Amino acids and UV filters keep color vibrant so you can longer in between washes.
Have any mixtape questions? Leave us a comment below!
By Becca King, community manager