good til' the last drop: what the amika team emptied in January
The amika team has had a very long January (like 3 months jammed into one). That's given us PLENTY of time to try out some new beauty products. These aren't all new launches, but these products are new to our beauty routines!. We have a round up of some amazing amika ladies that are going to share some of their holy grails over the past month. Stay tuned for the low down on the hair, skin, and body products you need to give a go!
JUANITA B.
Digital Marketing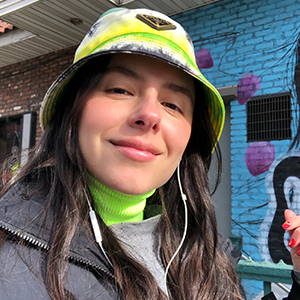 "Thicc is seriously the only volumizing product that works with my fine hair. It does not weigh my hair down or make it feel greasy. It actually fully absorbs and gives a matte finish that I LOVE! I'm also a huge fan of the wizard detangling primer. A small amount goes a long away. I use it on wet hair after a shower. I do this before applying thicc because it can feel well……thick…… on finer hair. I apply from mid-lengths to ends, avoiding my roots at all costs because it can weigh the hair down. The wizard makes detangling super easy and helps me cut down my blow-drying time. I take this product with me everywhere. Whether it's on vacation, or a weekend away, I ALWAYS have the wizard with me.
Just like hair, skincare can be complex, but once you find that product that works EVERY. SINGLE. USE, it is by default your new ride or die. I have very sensitive skin, that changes frequently, even if I have stuck with the exact same skincare routine, sometimes I will wake up and those products no longer work with my skin. That is, until I found my new HG; YTTP Adaptogen Deep Moisture Cream. I have been using this moisturizer for two years, the longest I've ever used any skincare product. It's super versatile! In the fall and winter I mix with a face oil, and in the summer I use on its own. It never just sits on my skin and always fully absorbs. It always leaves a clean, fresh, and glowy canvas for either makeup at night or just daily sunscreen."
JENN C.
International sales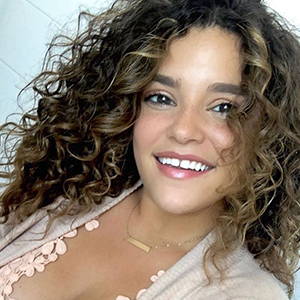 "I blow dry my hair a lot during the winter and blockade heat defense serum saves me from dry ends. This product is seriously a trifecta of the perfect primer—heat protectant, frizz fighter, and lightweight shine. I section my hair and apply a dime size really focusing on my ends, comb through, and blow-dry! This is also light enough to apply on dry hair. So, after a workout, I apply it through my hair for a quick re-style! Another product that has been a lifesaver is un.done volume + matte texture spray. I'm pretty sure I've found a 1000 uses for this. It's my holy grail. I spray it on my natural curly hair to separate my curls and add lightweight volume. I use it on freshly styled hair for touchable volume and piece-y texture. I use it on third day hair to re-fresh my style and add movement back into my hair. You can't go wrong with this, zero residue and your hair never feels tacky.
Natural deodorants have a bad rep for being ineffective. Frankly, not all are great, but routine cream makes the best deodorant. Their superstar deodorant is made with activated charcoal, magnesium, and prebiotics. The consistency is smooth and never sticky. It goes on dark gray but dries invisibly on the skin. It keeps me fresh all day and is gentle enough for the most sensitive skin. For those of you worried about traditional deodorant, give this one a go!"
MADDIE G.
Finance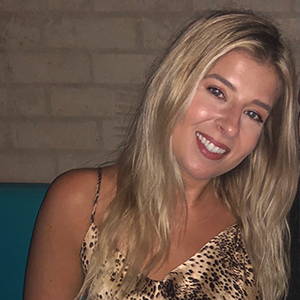 "As you can see, I'm pretty blonde and I DEFINITELY like to keep it that way. I use both bust your brass shampoo and conditioner. I couldn't possibly stay this blonde without it. Before I found BYB, I was straight up Storm from X-Men with the power of purple. Thankfully, bust your brass has the perfect amount of pigment and is hard to screw up. I'm also a huge fan of our silken up dry conditioner. Everyone always talks about perk up dry shampoo when it comes to working out, but silken up allows me to really fake having clean hair. It tames my ends by reducing frizz and static. Use both post-workout and you will look like you just actually washed your hair.
I'm kind of a skincare junkie and am hopping on #teamneveraging. One of my favorite tricks to staying baby-faced is the NuFace Mini Facial Toning Device. This thing is CRUCIAL on my quest to #teamneveraging. Electrocurrents literally lift your skin it's NUTS. I give myself a facial weekly. It rocks. A very worth-while investment for the health of your skin."
Now that this long AF month is over, relax and treat yourself to some new beauty goodies!
By Becca King, community manager
cover photo via niemanmarcus.com