Brooklyn businesses we love: Ode to Babel
amika was born and raised in Brooklyn (specifically Bushwick), a hub of creative thinkers, artists, and entrepreneurs. This borough is where we pull a lot of our inspiration from because it's the place we call home. Brooklyn has no shortage of new and unique ideas when it comes to just about anything, but especially businesses. In our "Brooklyn businesses we love series", we'll be passing the mic to small-business owners thriving and living out their dreams. Here they'll talk about their come up, lightbulb moments, successes, failures, lessons learned, and advice.
Today we're speaking to the owners of Ode to Babel, a bar and lounge.
introduce yourself and tell us about how you made your way to Brooklyn
Hi, I'm Marva Babel! Along with my twin sister Myriam Babel, we own the Brooklyn-based bar and lounge, Ode to Babel, in Crown Heights. We are native Brooklynites that grew up in Bed-Stuy and Crown Heights. We always knew we would open a space in the community we grew up in.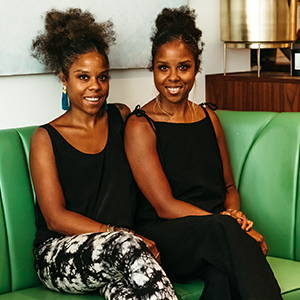 what was the process like of bringing the idea for Ode to Babel to life?
Ode to Babel was an evolution. It began as a mixed-used "lifestyle" space that would showcase independent makers and creatives. We also decided to build a bar area within the space so people can stop by to enjoy a small batched crafted spirit, and/or just hang with us while great music plays. Fast forward a little and we realized that people were really into just coming and gathering to listen to music. The retail element wasn't really selling well, so we made the decision to slowly pivot and become more of what our community was looking for. The transition actually felt organic and we're happy with the evolution. It had grown steadily, and it allows us to meet so many wonderful other creatives, musicians, artist, distillers, writers, poets, etc.
have you had an "I've made it!" moment yet? if not, what will make you feel like you've made it?
We haven't quite had the "I've made it" moment yet, but there are little pings that makes us feel like we're on the right path. One big "ping" has been the launch of our Ode to Babel Gin – it was released a couple of weeks ago, and it's really delicious. It's a product we're so proud of, and we are looking to add more spirits and beverage to our brand portfolio. The positive feedback has been reassuring that we are on a path to the "made it" moment. I think once we can continue to develop the brand to have our product as a "call" spirit across national and international spaces and in homes, we will have "made it." The biggest pleasure is seeing people enjoy a product you worked hard to develop and bring to life.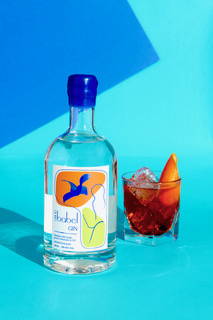 tell us about a moment when you wanted to give up or felt you failed, but pushed forward and persevered
There have been a few times when we've felt this way, but hands down it was the moment COVID-19 hit in March 2020. Pre-Covid we were on constant overdrive every day. We opened another bar and continued to grow. We were in the midst of the "grind" and then all of it ended abruptly. When we lifted our heads up in disbelief, we realized we were working so hard and doing so much that we didn't have the necessary cushion to rely on in case of an emergency! It definitely felt like we failed, and though we worked hard, our future was now in question. However, we are from the borough of Brooklyn and are built to last. We also have a dedicated community of support. We worked with our amazing team and were one of the few neighborhood bars to launch a thoughtfully crafted menu of "to go" cocktails, complete with garnishes and all! It was our mission to offer folks a sense of normalcy while keeping our communal energy engaged. It was equally a terrifying time, yet ironically rewarding. It gave us the confidence we needed to pivot and persevere; combined with the support from our community, it saved us. It also allowed us to get off the crazy grind and re-evaluate it all.
what's a lesson you've learned that you'll never forget?
Learn every part of the business you're in, but place your focus on the parts you are really good at. Learning every part of the business was crucial in the beginning when we couldn't afford the necessary staff. It forced us to jump into areas when we had no choice, and it helped us run our business lean and mean in the beginning. It also made us more confident in what we were doing.
how has the pandemic affected your business?
We've had to adjust to a new normal almost weekly, with constant city and state changes on a whim. We are constantly loosely "planning", as we don't know how things will pan out month to month. We reduced revenue since we're dealing with mandated closures and limited capacity, which is understandable, but it is a challenge. Despite this, it also allowed us to reimagine how to do business and kept us on our toes. We learned how to pivot and go with the flow, no matter what. On the really bright side, the pandemic has put a spotlight and more support on local business, so when we are open and the weather is nice, we get so much support from our community looking to come out and toast with us.
Ode to Babel is so many different things. how would you describe what Ode to Babel does in one sentence?
In a sentence… "Ode to Babel is an experience; a place to Imbibe the Vibe." You really never know what you're going to get, so come in with an open mind, chill out and let the moment take you where it will.
what's one of the most challenging aspects about being a small business owner?
A huge difficulty is not having sufficient working capital, especially when you're bootstrapped. Every set back is potentially financially devastating; even something as minor as a busted pipe. You can have great concepts and ideas to push your business forward, but not having the capital to build on that idea is difficult. It's frustrating, but you love what you do so much that it pushes you to continue and move forward; to persevere.
do you have any words of advice for aspiring entrepreneurs?
START even if you are afraid; start small and go steady. The support is out there. People will respond and appreciate what you have to offer. Also, hire a good accountant.