an interview with the co-founder + executive director at HairToStay
Earlier this month, we launched a limited edition jumbo soulfood nourishing mask in honor of our partnership with HairToStay. For every jar purchased, we donate $4 to HairToStay, a nonprofit dedicated to helping cancer patients keep their hair during chemotherapy.
We're honored to be partnered with them for the fourth year in a row, and we wanted to take the time to chat with Bethany Hornthal, Co-Founder and Executive Director at HairToStay to hear about her experiences starting this amazing organization.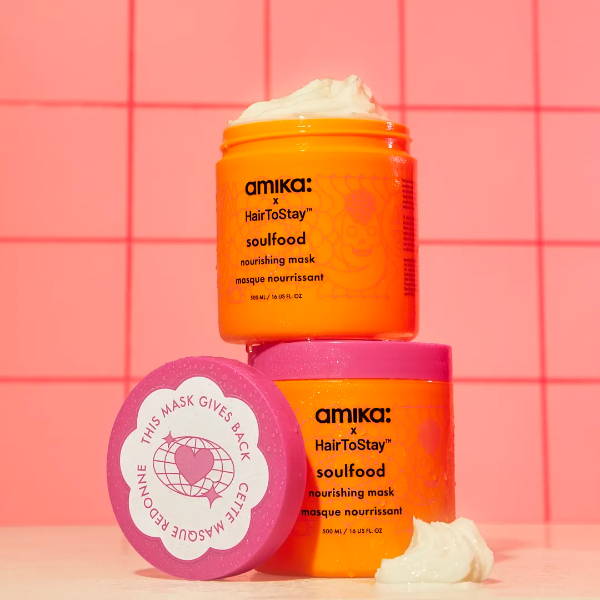 in your own words, tell us about HairToStay, and its mission.
"HairToStay is a very unique non-profit organization.  We date back to the very beginning of automated scalp cooling in the U.S., as our founder actually was involved in the FDA trial to clear scalp cooling for use in our country. HairToStay is here to level the playing field so that anybody, regardless of income levels or financial status can have access to a remarkable treatment that can dramatically reduce chemotherapy-induced hair loss.  We are the first and remain the only national non-profit to focus exclusively on this mission."
how did HairToStay begin?
"[I] was consulting for the UCSF Breast Cancer Center in 2010, when a patient was really pushing for the University to use the same treatment that she knew was being used in Europe to help women save their hair during chemo. [I] was asked to research the effectiveness of the device and process being used in Europe. Once it was determined that it was effective, [I] was asked to find funding for the FDA trial. [I] was able to secure a donor to cover the cost of the trial at UCSF - Dr. Ingrid Tauber - who continues to be a donor to HairToStay. Scalp cooling received FDA clearance in the US in December of 2015. Since no insurance carriers were covering any of the costs of scalp cooling at that time, in April of 2016, [I] joined forces with Patsy Graham, who had used a manual cap for scalp cooling years earlier and started HairToStay to subsidize low income cancer patients across the country."
what is scalp cooling, and why is it important to help fund?
"Scalp cooling is a treatment that utilizes cold temperatures applied to the scalp at the time of a chemo infusion, in order to significantly reduce chemotherapy-induced hair loss. Lowering the temperature of the scalp by about 30 degrees creates vasoconstriction - which means the blood vessels in the hair follicles constrict and therefore allow less of the toxic chemo drug to enter the follicle and damage the hair.  A little-known fact is that at least 8% of female patients will turn down chemotherapy due to fear of hair loss!
We survey our recipients before and after treatment and have found that they feel scalp cooling has had a significant positive impact on the sense of well-being, normalcy, privacy and control. It allows them to feel more comfortable with social interactions during treatment and makes a huge difference with those who have young children who might be traumatized by seeing their mother looking so different."
have you gotten to meet anyone that has benefited from HairToStay, and if so, are you comfortable sharing that story with us?  
"We have met many individuals who have gone through scalp cooling. (see the answer above).  Also, we have a heartbreaking experience of an 18 year-old who was diagnosed with ovarian cancer just prior to her graduation from high school. Her mother said that all she really cared about was crossing the stage to get her diploma with her own hair on her head. We gave her a subsidy for scalp cooling and she sent us a note letting us know that she was able to "whip her hair! LOL" as she received her diploma. We were thrilled. Sadly, she had a recurrence. We granted her a second subsidy. She passed away not long after her recurrence. Cancer is a fight for life. Our goal is to help make the treatment journey less overwhelming so that perhaps an individual has even more strength to get through this battle."
anything else you'd like us to know about HairToStay?
"amika was our very first brand partner.  The company's attitude and generosity gave us the confidence and understanding to pursue the haircare industry in a significant way.  amika has never said no to us, and we have never had to say no to an eligible applicant for a scalp cooling subsidy. We are very appreciative of the role model that amika has been and continues to be for the rest of the haircare and beauty industry. Their contributions have changed the treatment journey for over 500 individuals and their loved ones!! We couldn't be more grateful!!"
shop the NEW jumbo limited edition HairToStay soulfood nourishing mask here!